Everything you need to kickstart your flowering plant is right here. Discover the joy of gardening.. you dont have to be any sort of pro to grow. Beautify your space with dhalias.
This kit by Pot & Bloom contains :
Pot & plate
Dahlia seeds
Natural pot mix
Nutrition spray
Protection spray
Nutrition powder
Germination cocopeat coin
Instruction manual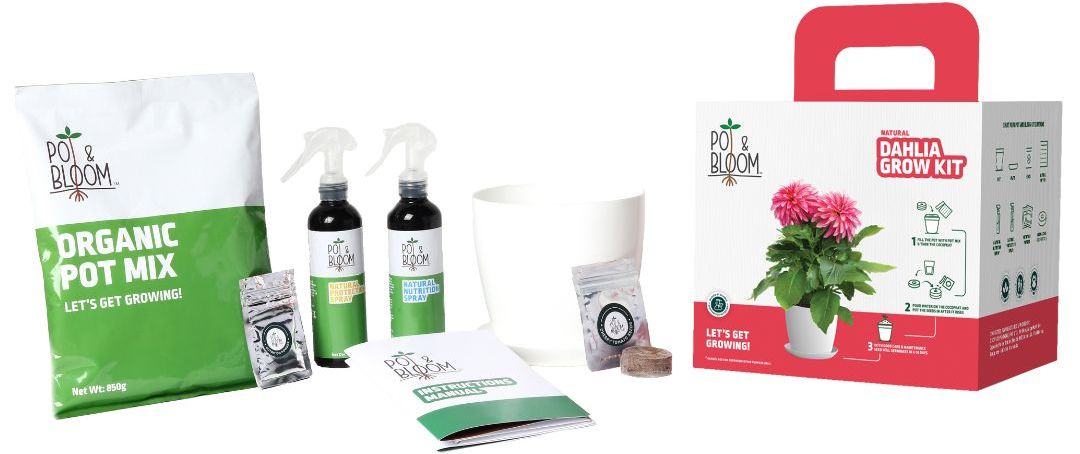 Get growing with just 3 easy steps
Step 1:
Fill the pot with pot mix, make a hole and place the cocopeat coin.

Step 2:
Pour half a glass of water on the cocopeat. After it rises, sow the seeds.

Step 3:
The seed will germinate in 8-10 days with good care and maintenance.
FAQs
1. How much distance is viable while sowing the seeds?
The plants need good air circulation to thrive, so place smaller varieties about 12 inches
apart and large cultivars up to three feet apart.

2. How to tackle new growth?
Regardless of where you grow them in the ground or in containers—plant tubers in an area that receives full sun, water them regularly, and fertilize them promptly when new growth appears